Skip to Main Content
It looks like you're using Internet Explorer 11 or older. This website works best with modern browsers such as the latest versions of Chrome, Firefox, Safari, and Edge. If you continue with this browser, you may see unexpected results.
European Union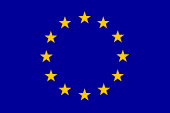 The European Union is a unique economic and political partnership between 27 European countries.
It has delivered half a century of peace, stability, and prosperity, helped raise living standards, launched a single European currency, and is progressively building a single Europe-wide market in which people, goods, services, and capital move among Member States as freely as within one country.
Depository Materials in Ottenheimer Library
European Union (EU) materials are shelved in the collection on the fourth and fifth floors of the library. All of these materials are included in the online catalog (Finding Books tab) and can be checked out.
Among the titles available:
The Public Administration and Funding of Culture in the European Community
Call Number: NX 750 .E85 C39 1989
Turning Territorial Diversity into Strength: Green Paper on Territorial Cohesion
Call Number: HT 395 .E85 C65 2008
European Union Bookstore
An ever increasing number of the European Union reports are being released in electronic format only. These can be searched in and printed from the European Union Bookshop (Listed Above). The Bookshop site offers searching by keyword or browsing by author or their established subject divisions. Many publications can be downloaded/printed for free. To do so, it will be necessary to have Adobe Acrobat Reader. The latest version is recommended.